Its been 10 years since the film adaption of Mamma Mia! (the 14 year standing Broadway play) first hit movies theaters and became a sensation across the country! It instantly became the go-to girls night movie and one of my absolute favorites of all time! That is why I am writing this now and so so so excited for all things Mamma Mia!
When the sequel was first announced I think I literally screamed in excitement. The first movie is such a feel good movie and will give every viewer 109 minutes of non-stop smiling even in the midst of this *somewhat* ridiculous story-line at times and now we get a second one!!! This is a gift we truly do not deserve! Or maybe its just what the world needs right now... either way bring on the sing alongs, happy tears, and bell bottoms! I AM HERE FOR IT!
And for this reason... I give you 10 DEFINITIVE REASONS MAMMA MIA IS THE BEST THING EVER AND YOU SHOULD ABSOLUTELY BE GOING TO SEE THE NEW ONE IN THEATERS!
1. Meryl Streep...do I really need to go on past this point???
For funzies I will but just so we get the picture. Meryl is a goddess and my hero and she should be yours too. She is perfect in all ways and any movie with her in it just jumps to the top of any list. Cam from Modern Family hits the nail on the head.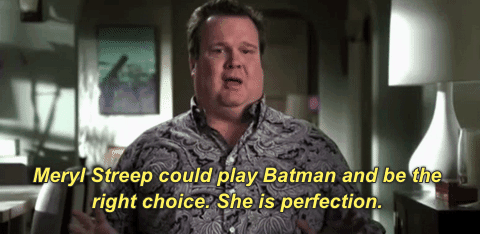 1a. Meryl sings on a yacht
1b. Meryl plays an unapologetic woman who slept with three men around the same time and doesn't know who the father of her daughter is
Meryl Streep as an individual just makes your heart smile and to see her play such an empowered woman just makes us all grin a little harder. She has a past with various men and for the most part regrets none of them. She's a woman in a patriarchal world though, so obviously she has the occasional doubt but her friends and daughter are always there to remind her how many men (or women) you've slept with it 'ain't no thing.' Donna still comes out a winner in the end which is not typical for a movie from this time where women in the arts are "punished" in one way or another for having sex.
1c. Meryl wears ridiculous clothes
Complete with both overalls and funky sleeves/ bell bottoms
1d. Meryl does a cannonball
We all love fun Meryl!
2. The Dancing Queen number
Picture women breaking out of the shackles of their everyday routine and letting themselves be free. This is what this number is all about. The power of women and how to become the woman you don't have to give up the girl (wise words from Eleanor Waldorf in Gossip Girl). Every woman gets to be strong and beautiful and free here and theres something so powerful about that!
3. Its set on a beautiful Greek island
The movie takes place on a beautiful but unfortunately fictitious Greek island of Kalokairi. The scenery in the movie is absolutely beautiful and fortunately for us we know that it was filmed on the REAL Greek island called Skopelos.
4. The movie is about love BUT not necessarily romantic love


Chick flicks are usually known for the struggle throughout the movie with a man and in the end a fairytale ending kiss. Awww how sweet...blahhhh! Mamma Mia is about a mother and a daughters love with a little romance thrown in at the women's leisure. Donna and Sophie's love is so pure and it makes those watching it need to go love on their wonderful mammas!


5. If you didn't at least tear up a little during the "Slipping through my fingers" number you are basically heartless
I can't wait for the day my mom helps me get ready for my wedding, there's such a special bonding moment during this time. This is the sweeeetest part.
6. The MUSIC all together
Seriously lets freaking go!!! With all this Abba music! Dancing Queen has always been one of my favorite songs but when so many more Abba hits and songs not as well known are the entirety of this production it just blew it right out of the park. And with the songs all being from one group you would think some just would not fit, but they are all so perfectly placed! It makes you want to get up and dance and do a complete sing along (but don't forget your feather boa or puffy sleeves!).
7. Friendships we can all relate to
This movie really highlights how important a woman's best friends are and how important it is to have them in your life. At the beginning of the movie Donna's two best friends come in to town all having led different lives but picking back up and loving each other like nothing had changed! It really made me look at my best friends and become so grateful wondering where our paths would lead but knowing our roads would always find a way back to each other!
8. Watching these guys dance
Spoiler alert: It gets no better in movie number 2
9. It is a feminist gem of a movie

All of the above man. Women empowerment. Different family dynamics. Strong women of all kinds. YGG!!!
10. The message
Though it is such a cheerful. upbeat, and somewhat goofy movie it has such a powerful message. Sophie feels like she's missing out on something because she has never had a father and thats why she goes looking for him. Though, in the end, she realizes all she's ever needed has been right by her side in her mom. Donna and Sophie see they have always had each other and that was enough, even though having 3 fathers in the end was a special cherry on top! Be thankful for what you have guys! :)