I'm finally back blogging!
I've had an exciting past few months and had to transition out of fashion blogging with everything going on but if you follow me on any form of social media you've probably seen the main reason for this is I'VE FINALLY MOVED TO NYC!!!!
Last year I said I was moving, then unfortunately that didn't happen. With a combination of becoming extremely busy at home with my agency there, my mom making a move to South Carolina from my hometown, relationship changes, and traveling so much; it just wasn't the right timing for a big move. This 'not being the time for a move' thought process dragged on for at least 8 months :/ At the end of 2018, I had an offer to move at the beginning of the new year. I immediately thought 'wow thats so quick, I really just don't know if I'll be able to swing that and completely uproot my life.'
Excuse
. In reality, I was just scared. Scared of the unknown. Scared of starting over. The knowingness that if I did it everything changed and NYC would become my life, I would no longer be a kid, and I probably wouldn't ever live at home again. Long story short, after battling my insides, I came to one of my ultimate life decision making mottos---
IF NOT NOW, WHEN?
Anddd so everything changed. I initially moved up here with the idea I'd try it for a month and if it wasn't for me, I'd just head home. Spoiler alert: I underestimated my love for the city and I'm like Leo in Wolf of Wall Street.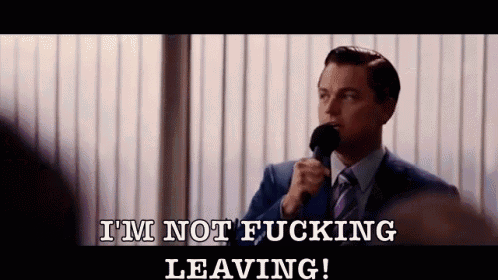 Since moving here, I have met the most amazing people, had my share of celebrity encounters, made friends with Victorias Secret models, ate food like no other, moved apartments once, went on dates, done broadway shows, almost stepped on a rat while crossing the street, paid over 40 dollars for laundry, added a job to my resume, experienced cryotherapy every time I walked out the door, argued with a homeless man for harassing people on the train (yes, everyone here calls the subway the train or the MTA), had Blair Waldorf moments, believed that I could actually smell spring in the air which they say only New Yorkers can do, and honestly...just had the time of my life!
I'm looking forward to sharing all of my experiences with all of you and keeping everyone updated on my life here! For now,